Julia Kaleta is a sustainable colour researcher on a mission to create a compendium of shades and tones made with plants and bacteria. While researching for sources relevant to her ongoing project The Atlas of Sustainable Colours (AoSC), Julia sent us a set of detailed questions on how we produce textile dyes by using natural occurring bacteria. We were honoured to participate in her exciting project of gathering an international community of alternative colour enthusiasts. But now it's time to turn the tables! We invited Julia for an interview to tell us more about her motivation and passion for exploring alternative colouring strategies.
Tell us a bit about your background and how did you get into the world of design, aesthetics and colours?
As a kid, I always liked to draw. Since I was 9, I dreamt about a career as a fashion designer. When I was in high school I developed an interest in arts and design, to such an extent that I became a laureate of the national Olympics in the History of Art. At the same time, I got accepted for the Bachelor Studies in Fashion Design at Warsaw Academy of Fine Arts. It shows that I was always very persistent in reaching my dreams. During my first internship at Jonathan Saunders Studio I observed that the fashion industry has a huge waste issue. 90 % of the collection I did in my second year (2012), was made out of deadstock fabrics I brought from the internship in London. Later I found out other problems such as pollution, not to mention a very unsustainable way of managing not only natural but also human resources. After I graduated I worked in the industry for 2 years and I didn't like what I saw. I decided to never produce clothes before I find a way that does not hurt the environment. During Master studies in Arnhem, NL, I became interested in natural and bio-dyeing practices and focused my artistic research on sustainable colours in fashion. I found out more about my personal values such as respect towards other beings and my sensitivity for nature. I decided to find out what will happen if I bring it to my design practice.
My interests in the aesthetic experience of colour and its materiality are approached from a designer's perspective accompanied with a philosophical reflection.
What was the starting point which led you to create The Atlas of Sustainable Colours?
One of my favourite places I go to when I travel is a bookstore. In 2019, during a trip to Paris, I got lost in the small English bookstore where I bought a small, beautiful book with a turquoise cover. It was a re-edition of Werner's Color Nomenclature – one of the first attempts to catalogue colours found in nature and used in pigment making. I didn't know yet that my project would turn into my own version of creating an alternative colour book. Nevertheless, that was the moment when my intuition took a lead, telling me to take that book with me back to Amsterdam, and start collecting and curating colour samples.
What excites you about the colour?
Its ungraspable nature. Colour is a phenomenon where nature and culture meet, a phenomenon studied by both arts and sciences such as chemistry, physics, psychology, and recently bio-technology. For me, the latter creates an opportunity to bring significant change to the fashion system. Colour is a building block of aesthetics which are important for our well-being.
How can natural dyes replace the predominantly synthetic-based dyeing industry?
In my opinion, it is really important to explore the alternative options and keep bringing them to the table every time when there is a possibility to make a difference. It is a complex process, which requires engagement from many industry stakeholders. Fashion designers need to know what their options are – they still want to make fashion aesthetically pleasing. Textile companies need to invest in research and development to support start-ups and connect colour knowledge with new technologies. The reason synthetic-based dyes are predominant has its roots in the current models of production and consumption, and it goes back to the Industrial Revolution when the first synthetic dyes were created. Before that time, dyed textiles were very expensive. My favourite quote, I repeat, is that
.. instead of defining the colour of the year we need to focus on defining the colour of the 21st century as a sustainable one. That means we need to collaborate, explore, re-define, re-design and enjoy this journey while being serious about climate change and environment protection.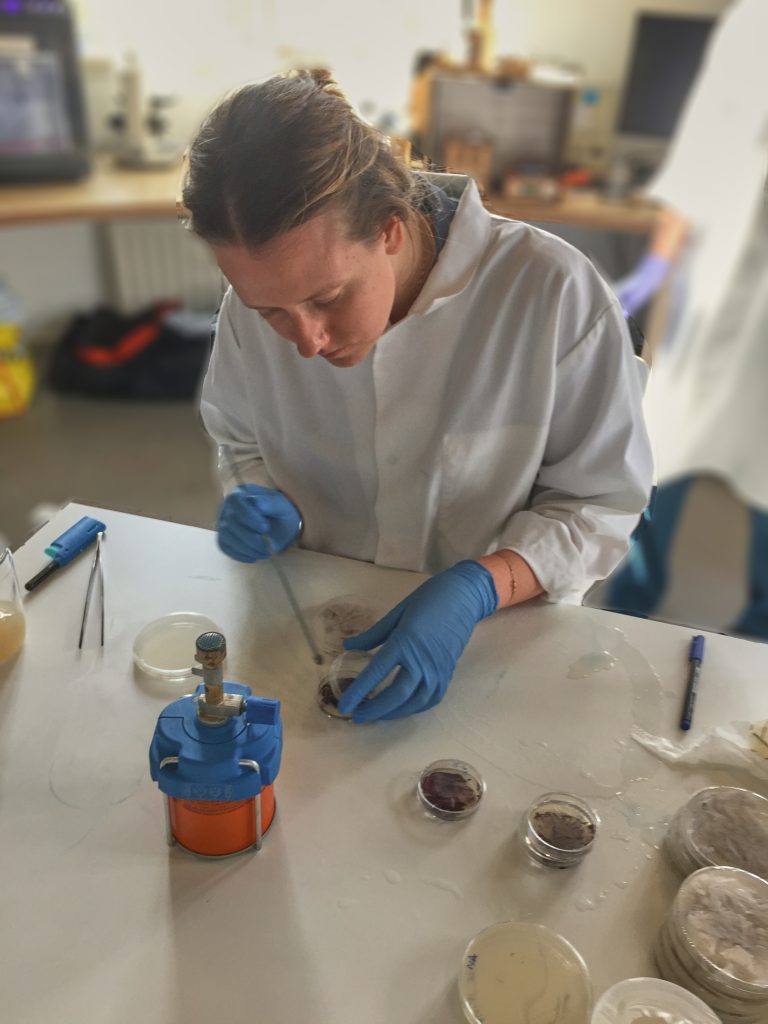 Whom do you want to reach with your project?
I want to inspire designers, researchers, fashion practitioners as well as all colour enthusiasts.
How do you want to facilitate the connections between the industry stakeholders?
The word "Atlas" in the title of the project is for a reason. The website I am building now has a map with the function of finding the colour makers in different places in the world. I am mapping case studies of people, methods and ingredients to show whom and where is working towards making a change in the colouring industry. Personally, I am reaching out to every designer and researcher I find, I schedule calls and have fascinating conversations about colours, dyeing methods, and challenges. My dream is to organize a conference next year, where the AoSC network could share their experiences in real-time.
How did you meet the Vienna Textile Lab? What has the exchange meant to you?
Before we met personally, I reached out to Karin (VTL's founder & CEO) when I was researching the subject of alternative dyeing methods for my master project. I sent an email and we scheduled a call and it was one of the first mind-blowing conversations I had about the challenges and opportunities standing in front of colour researchers.
What challenges do you face while working on creating the platform?
One of the main challenges is working on my own. It is said that you will not make a sustainable change alone. And it is absolutely true. Fortunately, I have partners, such as VTL, with whom I can have discussions important to move this project forward. Nevertheless, I am looking now for people who would like to join me on the journey through the realms of alternative colouring. I need support with writing successful grant applications as well as business relationships and (social) media communications. I would love to focus on researching, writing and creating. The project has great potential to connect people and put together all the ingredients needed to redefine the colour in fashion and textiles.
What's in the future for sustainable colours?
Accepting the non-acceptable. I am talking about fading away, re-dyeing services offered by brands to sustain the colour, exploring colour's circularity and strengthening the collaboration between industries in order to create waste colours. We will develop new skills and focus on the local production of colours which needs to go hand in hand with textile production. That's why bio-dyeing is intertwined with bio-materials. The future of colour is also about the natural colour of materials we will be using for production.
How do you see your work evolving in the future?
As a designer and a researcher, I need to have a balance of practice and theory in my life. I am working now on making the AoSC as a virtual space for the community of alternative colour enthusiasts. I see my work as a contribution to change as well as an inspiration to make a difference. This project's goal is to promote alternative solutions for dyeing textiles and keep asking what those solutions actually are and how we can make good use of them.
Where can one follow your work?
For now, you can find the landing page of the AoSC at www.atlasofsustainablecolour.com and subscribe to become part of the community, besides that follow me on Instagram @atlasofsustainable or check my personal website at www.juliakaleta.com