A love for textiles with a focus on research and innovation have led Julia Moser to work with living organisms. As part of her fashion tech studies at Art University Linz with an MA in textile design, Julia contacted our founder Karin to learn the basics of working with microorganisms. During her assignment with VTL, Julia's mission to expand the application of bacterial dyes as a viable alternative to petroleum based synthetic dyes became even more ripe. Currently she is busy with dyeing yarns and threads for further use in weaving, knitting and sewing. As part of her exhibition project 'Growing Colors' at the Ars Electronica 2021, VTL was commissioned by the Johannes Kepler University Linz (JKU) to help with dyeing Julia's samples. Today we are introducing you to Julia's fascinating work in more detail.
Why did you start studying fashion and technology?
I have been fascinated by textiles and clothes since I was a child and I have always been into art and design. Even though I love to work with different materials and learned techniques for working with metal or wood as well during the higher vocational school for arts & crafts that I attended, I have always been fascinated by textiles. Therefore I started and finished my BA and MA studies in textile.art.design at art university Linz. Once I found out that there is going to be a new study program in fashion & technology, I knew that I wanted to be part of it. On the one hand, because my latest projects have all been located at the intersection of design and technology with a focus on research and innovation processes. And on the other hand, because I hoped to find and learn about ways of how to make fashion design practices more sustainably conscious and aware. I basically searched for my place in a business where I feel connected, talented and inspired, but at the same time so far away with all my critical thoughts. That is why I started this second masters program, which I am about to finish within the next months.
What is fascinating about microorganisms?
I am a big fan of using microorganisms in food through fermentation processes and I believe that they play a much bigger role in many processes than we might think at the moment. If you only think of the fact that one human being consists of around 30.000 genes, but around 3.000.000 bacteria cells, you can imagine their importance for many functions in our body. The existence or lack of certain bacteria strains in our gut can have a big impact on our health. Our gut's microbiome plays a significant role concerning various regulations in our body, making our digestive system being seen as our "second brain". There are microorganisms being used for cleaning, cutting plastic waste, decolorizing polluted waters or even finding tumour cells. Probably it might be easier to answer what is not fascinating about microorganisms:).
How did you meet the Vienna Textile Lab? What has your collaboration with VTL meant to your work?
I first met VTL in a workshop where I practically got in touch with textile bacteria dyeing for the first time. Years before I had found out about this technique to be an alternative textile dyeing method. Since I was not and still am not a scientist, I did not expect myself to be capable of carrying out this dyeing method by myself. But VTL taught me something different and showed me the basics of working with bacteria for dyeing textiles. After the workshop, I started working together with VTL in the form of collaboration for my master project to finish my masters in textile.art.design. While I am now able to use a laboratory for conducting my own textile bacteria dyeing, I am still in close exchange with VTL and try to incorporate VTL in my projects whenever possible. Karin from VTL is now even supervising me in my second master project for my studies in fashion & technology. What the VTL did for me and the door they opened for me changed a lot in my work. Basically, for the first time, I could see a way to incorporate my philosophies and values into my art & design practice.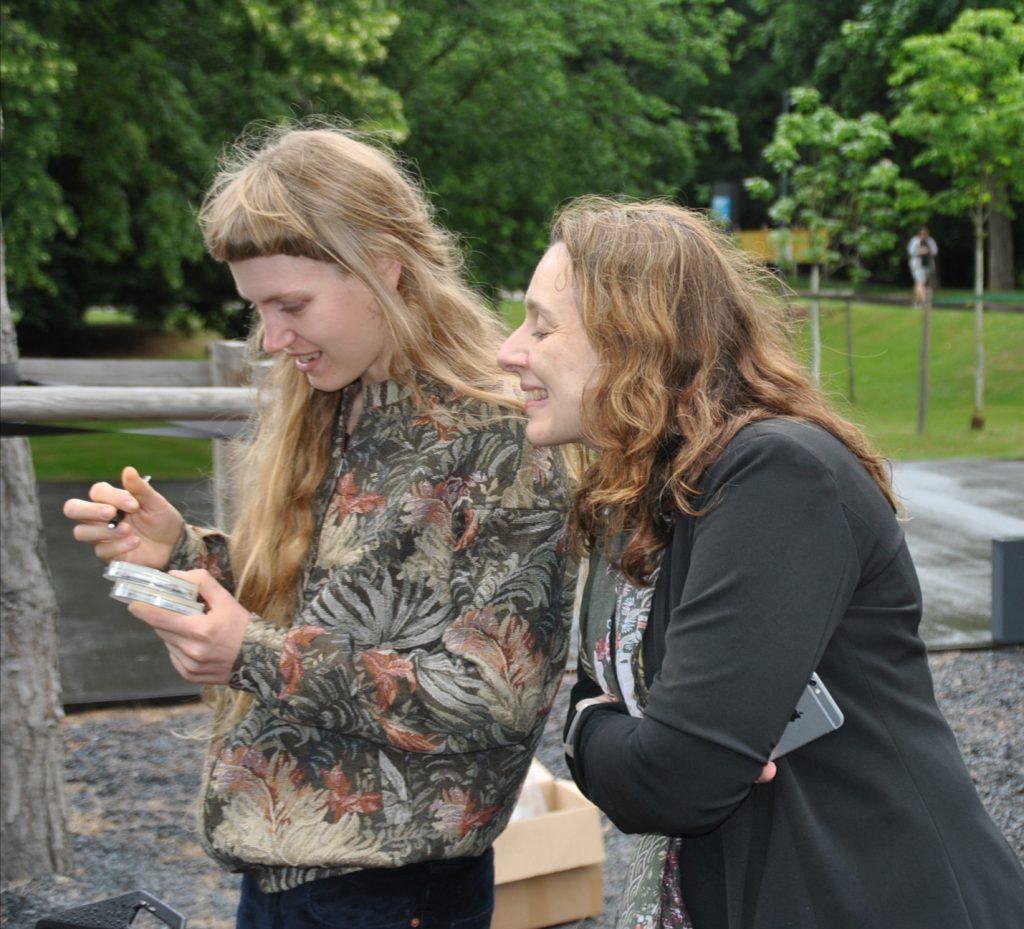 It is beautiful to work with living organisms that always accompany the work with a sense of surprise and create bodacious situations.

Julia Moser
What inspired you in your work with microorganisms?
Once I started to work with bacteria for dyeing textiles, something happened to me. I immediately felt loads of inspiration and thought of hundreds of different ways of how to work with them in a different way, so that new design aesthetics within this method could be made possible. I see a beautiful potential in bacteria for dyeing textiles. They can help to decrease the use of water resources and toxic chemicals within the textile industry tremendously and I hope that this technique can once compete with other dyeing methods on a big scale. To support this goal, research has to be done. I want to focus on enhancing its application in terms of aesthetics and I hope that as many designers, scientists and researchers contribute to this goal to push this technique to where and what it should be.
What are your current projects?
Currently, I am organizing and working on a funded project for the ARS Electronica Festival 2021 together with different collaboration partners from Johannes Kepler University Linz, the Technical University Graz and the Textiles Zentrum Haslach, to which I invited VTL and the Viennese bacteriograph Erich Schopf to take part in it as well. Furthermore, I am writing my master thesis for my studies in Fashion & Technology and planning my master project at the end of this year.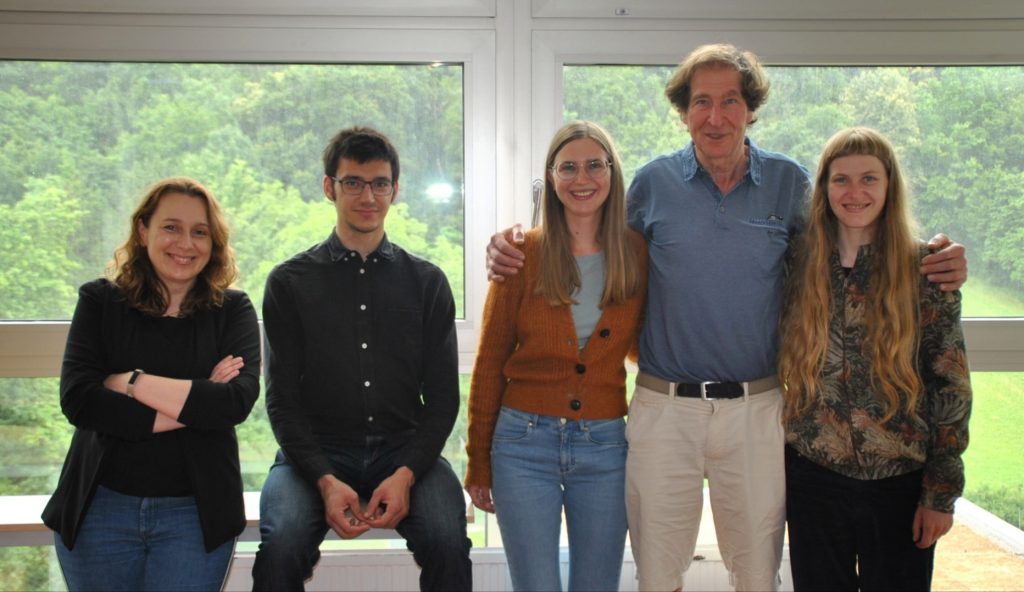 Why do you think we need a more sustainable textile industry?
If we see ourselves as part of our environment and want to stay part of it for longer, I think it is obvious enough to understand that there's no other chance than to make the industries and of course also the textile industry and all other sectors sustainable and far-sighted. We got to realise that the decisions that each of us is taking, have an impact somewhere. And since everything is connected, everything's having an impact on everything and everyone. Therefore, the question of sustainability should no longer be an individual one. It should collectively be clear to pull the same strings and to take decisions as benevolently as possible for the surrounding and the environment and therefore for ourselves as well.
What are the challenges for the next generation of designers?
I think one of the challenges will be to rethink design processes to adapt to current needs and demands. Another challenge will be to build upon past generations failures and to deal with ending resources, fast paces and high amounts of waste. Furthermore, our generation of designers will most likely have to be more open to working interdisciplinary and more flexible. Inventive and out of the box thinking will be key tools for success. A fashion designer of this age will have to be much more than somebody designing clothes. More designers are going to be additionally art directors, microbiologists, technicians, digital artists, researchers, system changers… or all of it at once.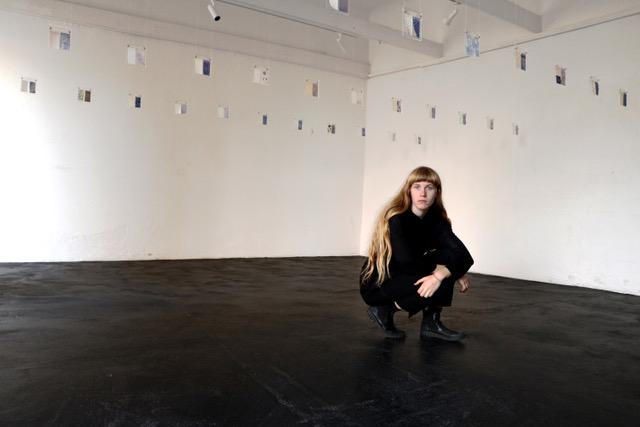 On which channels one can find your work?
You can find my work on my websites julia-moser.com and livingpigments.com as well as on my Instagram @growingpatterns.livingpigments and @lia.art.design. Furthermore, you can find my work on Ars Electronica 2021 and on youtube.