Coffee, Art and Bacteria in Vienna.
Once a month we blog about the WORTH Partnership Project that is taking place between the Vienna Textile Lab and young fashion designer Loreto Binvignat Streeter, who stands behind the brand anima by loreto. Throughout our two previous blogs – "Building Bridges: Fashion & Biotech" and "Connecting the dots", we wrote of our introduction to this project and meeting of the protagonists of these stories – Karin Fleck, the CEO of the Vienna Textile Lab and Loreto.
In today's blog we will tell you about this young designer's 2nd visit to Vienna in Summer 2020 and our company, lab and the time we spent together.
Loreto founder of the brand anima is based in Berlin, Germany. She flew to Austria in mid-July 2020 where she was welcomed by the Vienna Textile Lab team members and had some touring of the city and finally, the lab.
Vienna gave a warm welcome to Loreto, even though we were in the middle of the pandemic. Karin and Loreto shared their love for one of their favourite places in Vienna that is the museum of applied arts, the MAK. The museum hosts historic and iconic examples of design and textiles and it is a great place to hang out.
Then it was time to inoculating plates and broths, observe media growth and organism isolation. This passionate and environmentally aware fashionista had already visited us and now she was deep diving and getting to know the methods right. In order to know how her pieces would be processed, she spent hours with our experienced microbiologists. At the end of these weeks, Loreto was equally thrilled, impressed and intrigued by starting at plain textile and coming to colorful and eye provoking garments.
Loreto was insighted into how bacteria are being grown and the patterns that can be produced on her clothing and fabrics.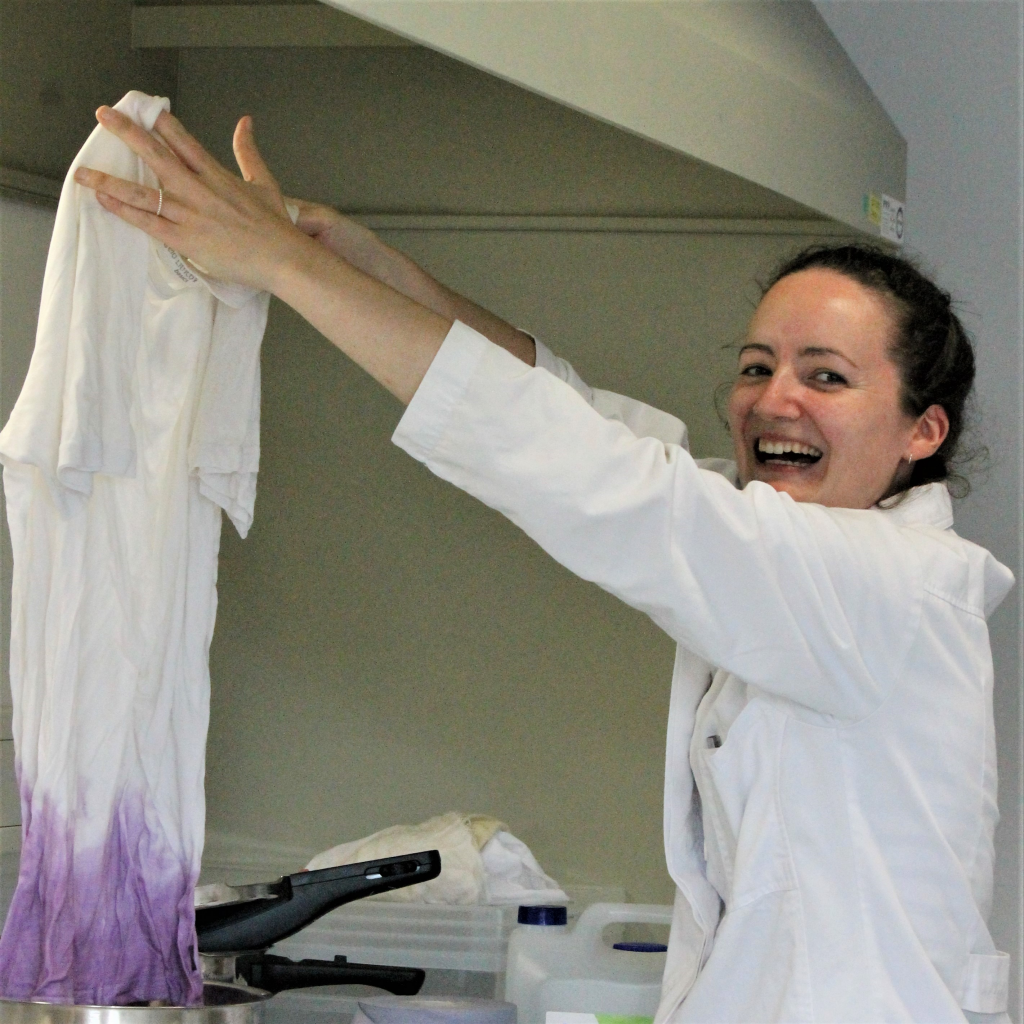 On arrival, Loreto's suitcase was filled with numerous textiles and colourless garments which in the following days became test samples. We tried several dyeing techniques, of which we have chosen the most satisfactory ones. We discussed in detail the logistics and the making of the designs, and types of textiles that she would want used for the Worth Project prototypes.
At one point, we reversed roles and Loreto skillfully showed us how to naturally dye textiles with a small insect named cochineal. It was great fun and very insightful to exchange experience and knowledge on a topic that we are all very passionate about.
Ultimately, Loreto's visit to the Vienna Textile Lab deepened our mutual understanding of each other as both producers and consumers, but also environmentalists. As with everything surrounding the pandemic, working on this project has had many obstacles, one of them being that Loreto was forced to cancel her 3rd trip to Vienna. Even with all the ups and downs it was an amazing experience for all involved, matching design with science, co-creating and learning from one another.

Learn more about the WORTH Partnership Project!