The partners Vienna Textile Lab and Living Colour Collective are two visionary businesses from Austria and The Netherlands with a proven track record of success in the field of microbial dyes. Both companies have known each other for years and sought an opportunity to work together. They decided to apply for the ELIIT Call 2 in 2021 with a novel circular ink solution for textile printing – and so Binc.ink was born! In this blog we cover BInc's launch at Techtextil Frankfurt 2022.
It is no secret that working collaboratively can bring outstanding results as compared to each company working on its own separately. In this sense Vienna Textile Lab (AT) and Living Colour Collective (NL) joined forces in 2021 to start a project together organised by ELIIT Call 2 and funded by the European Union's COSME program. Ahead of the interdisciplinary female-led team was a 12-month program with the aim to drive innovation and technology transfer.  
Vienna Textile Lab Team visiting Living Colour Collective in Rotterdam, September 2021 – copyright by binc.ink
Eager to make the best out of it and despite pandemic restrictions and other organisational challenges the team quickly realised how to make use of compatible skills and abilities. Vienna Textile Lab as a biotech company has an expertise in microbial pigment production and Living Colour Collective is working on the textile ink formulation and designing prototypes. Around six months after the joint project started, the binc.ink was born!
One of the milestones to achieve during the project was to showcase the prototype. The invitation by ELIIT to participate with a booth at the leading international for technical textiles and nonwovens, Techtextil Frankfurt 21-24 June 2022, was seen as a great opportunity in the team and a great challenge at the same time.
With a total of around 2,300 exhibitors from 63 countries, Techtextil, Texprocess and Heimtextil Summer Special presented forward-looking innovations and trends along large parts of the textile value chain. "As a concentration, trade fairs give these diverse developments visibility, bundled on a global business platform – and at the same time make a decisive contribution to understanding sustainability holistically and redefine supply chains," explains Olaf Schmidt, Vice President Textiles & Textile Technologies at Messe Frankfurt. From yarns, fibers, contract, decorative and upholstery fabrics to functional textiles, textile technologies, finishing processes, water-saving dyeing processes and end products for textile furnishings, textile design, bedding and performance textiles, the parallel Techtextil, Texprocess and Heimtextil Summer Special offered a bundled global range of products – which also demonstrate that scalable and sustainable innovations are not at odds.
Questions around delivering prototypes early in the product development, how to approach potential customers, crafting the storytelling for the novel microbial ink solution, working on the business model and launching the social media presence were quite a sprint for our team!

The BInc Team experienced four days full of interaction, new learnings and partnerships and many laughs. The waiting list to pre-order the novel circular ink for textile printing was growing each day. For the further product development, we are actively looking for strategic partnerships and investors.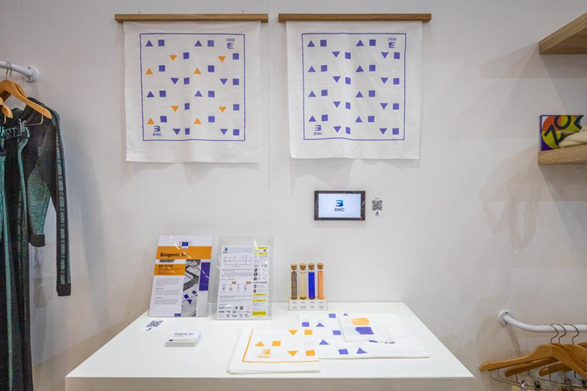 Stay in touch with the BInc project through our project website: www.binc.ink
Read more about our partners Living Colour from our previous blog here.
"ELIIT Project is funded by COSME Programme of the European Union for the competitiveness of Enterprises and Small and Medium-Sized Enterprises (SMEs)"